A Part of
The Ducote Family
of Avoyelles Parish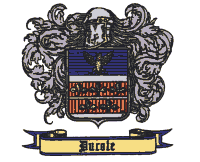 The Ducote Family
Coat of Arms
I would like to thank Susan D Gauthier for the Ducote Coat of Arms. Click here and check out Susan's site on the Ducote Family.
Information for this site was obtained from the book "Commentaries on some Avoyelles Families" & "Company G 1st Regiment Louisiana Cavalry CSA A Narrative" by William Nelson Gremillion Sr. and Loucille Edwards Gremillion. William Nelson is my wife's Uncle. Also, from articles in The Avoyelles Journal. Thanks Randy DeCuir. My Father, Alvin J Ducote also worked very hard on this tree. Thanks daddy.
While searching for material for this site, I naturally found information that differs from what I have here. I compiled what I interpreted as the most accurate.
Come back and visit soon.
Sign My Guestbook
View My Guestbook

Thanks
Donald J Ducote Sr.